Some of the The Best Cities for Coffee Lovers can be found in many countries around the world, if you are looking for that perfect coffee for your taste.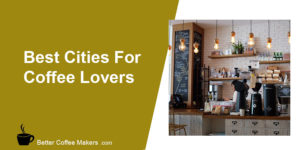 That hit of caffeine seems to give us a boost in the morning, and helps us solve the problems of the day.
If you are like so many people in the world, and you find yourself having that morning coffee, than you can consider yourself a member of a very large family of coffee lovers.
The Best Cities for Coffee Lovers
1 Vancouver Canada
You might wont to try out the Milano coffee shop, located in the beautiful city of Vancouver.
It has won awards from the International Institute of coffee tasters in Italy, with its excellent brewed coffee.
Many in Vancouver prefer the natural organic coffee, which is less expensive than what the commercial coffee shops sell.
The Honolulu Coffee shop located in downtown Vancouver is where you can find the famous Kona coffee, or try out there Hawaiian Latte, along with many other tasty treats.
Another coffee shop to try out is the 49th Parallel Coffee, which serves excellent coffee along with very tasty doughnuts.
So when in Vancouver check out the coffee shops, as you will find many more around the city.
2 Reykjavik Iceland
You will find that Reykjavik is one of the better cities for coffee in Iceland
Reykjavik Roasters started there coffee shop in 2008, and the coffee beans are imported from the growers in Nicaragua and Columbia, and are roasted on their site.
Mokka is another coffee house, and one of the oldest in Reykjavik opening in 1958, and they serve an excellent coffee along with some waffles to go along with it.
Stofan is a coffee house that also serves tea and other drinks, and at night it turns into a bar serving whiskey and beer, along with some very tasty Irish Coffee.
Cafe Haiti is another coffee shop to check out, as the owner used to work in the coffee fields in Haiti, and now imports the beans from there, so you can find that fresh roasted taste in your coffee.
You can also have free WI-FI, and they serve breakfast and dinners to go along with that coffee.
So if your looking for a coffee break in Iceland try out the many coffee houses you will find in Reykjavik, and you might just create some lasting memories.
3 Vienna Austria
You can find many coffee shops here, as coffee has become a part of the culture of Vienna, and the city also hosted the 2012 Barista Championships, plus the very first ideas for filtering coffee started in Vienna.
The Cafe Central opened in 1876, but after the second world war it was closed for 4 decades, than was renovated and reopened again in 1986.
Many famous people have come through its doors, Trotsky, Schnitzler, Freud, to name a few.
It still has the charm and originality that it used to have, and along with a great coffee you can try some tasty Austrian dishes.
Another coffee shop you might wont to check out is Kaffee Alt Wein.
It is situated in the city center on cobbled back streets, and was started in 1936 by Leopold Hawelka, one of the many coffee entrepreneurs of Vienna.
Cafe Schwarzenberg is another coffee shop that's been in business for a long time.
It has many business people that stop in to read the news along with there coffee and strudel, and it also has many Austrian dishes on the menu.
With many old and new coffee shops in Vienna, they are well worth a visit to try out the coffee of your choice in this city.
4 Melbourne Australia
Melbourne is in the top ten list for coffee cities globally, with some excellent Baristas.
The coffee shop Axil Coffee Roasters is open in 4 locations in Melbourne, and run by Dave Makin, and Zoe Delany, a husband and wife team.
They serve and sell espresso and a filter roast, with coffee beans they get from Africa, South America, and Central America.
Two of there coffee houses also serve a tasty brunch to compliment your coffee.
Another coffee shop is St. Alis which is famous for its specialty coffee, with there high quality beans being sourced from South and Central America, Africa, and Asia.
One of there specials is a barista breakfast with a cappuccino, espresso, and a filter coffee.
They also ship all over Australia, so there coffee can be enjoyed outside the city of Melbourne.
Dukes Coffee Roasters shop brings the best coffees to consumers in Australia.
As a specialty coffee roasting company they find the best tasting, and in season coffee.
You can find many more great coffee shops around Melbourne to try such as Higher Ground, Market Lane Coffee, Industry Beans, Everyday Coffee, Proud Mary, and Code Black, so if you are visiting Melbourne give them a try.
5 Rome Italy
The people of Rome are known for having 5 or more cups of coffee every day.
With its many baristas you can try the lattes, machiatos, or cappuccinos, that were originally created here.
A bar in Rome is a cafe where you can buy pastries, paninis, and a good cup of coffee.
The coffee shop Tassa Doro opened in 1946, just a few steps from the Pantheon, claiming to be the best in the world you will have to try a cappuccino or espresso.
Also there famous Regina dei Caffe blend is roasted in house, and available for purchase.
Another thing about having a coffee in Rome is if you sit down to order your coffee it will cost 2 or 3 times the price you will pay than if you drink it standing up at the bar.
The Saint Eustachio cafe has been in business since the 1930s, and the owners often travel to Brazil to pick out the best quality coffee beans, and they also pack and sell them to the public.
Some famous visitors to this coffee house have been Henry Kissinger, Mikhail Gorbachev, so if in Rome try out there Gran Caffe, which is an espresso with cream.
Luigi Santoro, owner of the Bar Del Cappuccino makes the best cappuccino, and also being artistic can do flowers, hearts, and apples on your coffee, and they also serve a delicious pizza, made with pastrami, mozzarella, and broccoli.
You might also wont to try the Rosati Cafe, said to be one of the best in Rome serving an excellent espresso, and has a pastry area with some of the best Tiramisu.
Other coffee houses in Rome that should be tried out are Caffe Greco, Canova, Domiziano, Sciascia Caffe, Sabatini, Canova Tadolini, Ciampini, plus many more, so when in Rome give them a try to find the perfect coffee that you like.
6 Taipei Taiwan
As the Taiwanese have grown to love the taste of coffee, since the 1990s imports of coffee beans are expected to reach 15% per year.
On an average the Taiwanese will drink about a hundred cups of coffee in a year, and with many new small coffee shops opening they are introducing new types of coffee to the island.
Coffee was first brought to the island 50 to 60 years ago, and at that time with the Japanese influence it was usually a black coffee.
Then in 1998 Starbucks arrived with the introduction of cappuccinos and lattes, with these taking a while to catch on, but now the western style coffee can be found on all parts of the island.
In 2007 Taiwans Baristas began to compete in the World Barista Championships, and were soon inspired by Italy, Scandinavia, and the Americas, with the result being that many small cafes began roasting there own beans while paying attention to the quality and where the beans came from.
The Wooloomooloo Xinya coffee house will serve lattes, and cappuccinos, and because many young people have worked in Australia they have gained a taste for Aussie coffee, so you can also find a flat white, the piccolo, and the extra short latte served in this cafe.
The owner of the Fika Fika Cafe won the Nordic Roaster Cup in 2013 after 3 days of competition.
One of the specials served here is the single origin Aeropress coffee, and also you might wont to try there cube latte with ice cubes made with espresso, and a warm frothed milk, and with a molasses tinged brown sugar syrup.
Two Shots is another coffee shop that uses fresh roasted beans, and they make some very good coffee drinks with an excellent taste.
In there 12 ounce coffees they use two shots of espresso, and so the name of the cafe came about.
The I Cafe serves up your typical coffee drinks, which have a great flavour, along with many home made desserts, and you might wont to try the tiramisu, and also has WI-FI so you can work on your laptop while having your favourite coffee.
Another good coffee shop in Taipei is Coffee Moon, it is more of a buy your coffee and go shop.
They serve an excellent cappuccino and other coffees, so is a place to try out.
You can find many more coffee shops around Taipei that serve just about every kind of coffee you can think of, from an Italian to the American style, Taipei has it all.
7 San Francisco U.S.
San Francisco is another city famous for its coffees, as there are many specialty coffee shops, and coffee roasters located here.
If you are visiting the city you can try the Mazarine Coffee shop which is located on Market Street in the financial area.
They brew some of the best coffee you can find here, as they have different styles of roast and brews to match every ones taste.
You can try the pour- overs and espressos, and there Nitro Cold Brew coffee, plus they serve a breakfast and lunch to go along with your coffee.
The Four Barrel Coffee house has been in business since 2008, and can serve you an excellent coffee, so is another good place for you to try out.
Ritual Coffee Roasters started there business in 2005, and there super light roast is perfection in coffee, plus they have a very informative brewing guide, so you can try out the roasted coffee beans yourself.
You will find this shop is one of the best, so stop by to give it a try.
Equator Coffee is another shop with excellent coffee, try out their Nitro Cold Brew, or cashew milk latte, or try an arepa.
This shop is committed to helping get micro loans to farmers, and supports women s land rights in Nicaragua, and the owners also have a high altitude coffee farm in Panama, so you can be assured that this shop knows coffee.
This is just a few of many great coffee shops around San Francisco, so take a look around when you visit this city.
8 Honolulu Hawaii
If you're taking a vacation to Hawaii, another city that is serious about coffee is Honolulu.
It's the only state in the U.S. that grows its own coffee beans, and the Kona coffee has become very famous, as the coffee trees grow in a rich volcanic soil they produce a bean that is mild without any bitterness, but can still maintain a strong body.
The Downtown Coffee shop located on the first floor of the Pioneer Plaza Building uses only 100% coffee that's grown locally, as it is sourced from coffee farms that are found on the islands.
You might wont to try there lattes, maple white mochas, and iced caramel cappuccinos, or just a cup of black coffee to give you that wake up feeling.
Kai Coffee house is where baristas will make you a coffee from locally grown beans, so try a Kai latte, or a 12-hour cold brew that you will find to be very smooth.
The Honolulu Coffee Company has bees in the business since 1992, and they started with a small kiosk in the downtown area, and have expanded to stores on Hawaii island, Maui, Guam, Japan, and China all serving coffee beans hand-picked from there Kona coffee farm.
They serve 100% Kona french press coffee, and with designed latte art, and drinks like an iced nutty Hawaiian, so for one of the best places in Honolulu to grab a delicious cup of coffee, give it a try along with breakfast and lunch.
There are many more coffee shops in Honolulu for you to try so you can find that perfect cup of coffee.
9 Tokyo Japan
Another city in the world where you can find a good coffee is Tokyo Japan.
The Japanese have traditionally been better known for there green tea culture, but as of lately they have become the third largest consumer of coffee in the world, and have adapted the western ideas of coffee brewing for there own taste.
At the Coffee Amp cafe you can find espresso machines and brewers, with some excellent baristas that can serve you lattes, mochas, and single origin coffees.
Coffee Amp is run by a husband and wife since 2010, and they turn out high quality coffee, but the shop is not too large, with only enough seats for a dozen people, so give it a try.
Nozy Coffee is another shop that serves great coffee, with beans from Columbia, Brazil, and Honduras, and with there single origin coffees from many of the worlds growing regions.
They also offer some educational events about coffee, and hold public cupping events.
Another coffee shop to visit is Satei Hato, and where the first thing you notice on entering is the beautiful tableware behind a long hardwood counter.
Here you will be served hand dripped coffee of excellent taste, from about 8 different varieties of charcoal roasted beans, and well worth a try.
The Horiguchi Coffee shop is were you can get a drip coffee or an espresso variety, made from beans that come from Central, and South America, and while visiting this shop you can try out some of there sweets.
This is just a few of Tokyos fine coffee shops, and as there are hundreds more we could probably end up writing a book to mention them all.
So next time in Tokyo give the coffee shops a try, you may just find that perfect coffee.
10 Wellington New Zealand
Wellington New Zealand is home to a thriving cafe culture, serving great coffee that is made by world-class baristas.
Below are just a few go to places for the caffeine craving traveler.
First you might wont to try out Mejo Coffee house which has 20 different establishments, as this Wellington roastery has expanded its coffee shops into Aukland, Japan, and China.
It's company headquarters offers barista training to there staff, and also to any of the public that are interested in making a great coffee.
The next coffee house to visit would be The Flight Coffee Hanger, where they have a team of award-winning baristas taking care of the shop, and also have there own coffee farm in Columbia for some great coffee beans.
There roast have become very well-known, and are used in many cafes in Wellington and Auckland.
The Havana Coffee Works started in the coffee business in the 1990s, and are using the worlds best origin blends for there in house brews, plus they serve a top quality espresso.
They also ship there beans to cafes and restaurants around New Zealand.
The Maranui Cafe also offers you a good cup of coffee, along with some excellent views of the coastline, and along with that coffee they serve breakfast and lunch, and open at 7am every day for any early risers.
Coffee LAffare, another coffee shop that's been in the business for more than 25 years, has some of the industries leading baristas.
They serve about 150,000 coffees each year along with a good breakfast and lunch.
The Midnight Espresso serves up an excellent coffee brew, and are open from 7:30am to 3am for that late night brew you might desire.
They also serve meals with a good selection of vegetarian and vegan dishes.
You can find many more great coffee shops around Wellington for you to try out to find that perfect cup for your taste.
11 Addis Ababa Ethiopia
Ethiopian coffee is perhaps some of the best in the world, so its capital Addis Ababa is a good place to start your search for that perfect cup of coffee, and also to purchase some of the finest coffee beans to bring home.
Ethiopia accounts for about 3% of thee global coffee market, and is also where the coffee plant Coffea Arabica started.
The Tomoca coffee shop is a must visit to satisfy your coffee cravings. It's a small shop with no seating, but has a few stand up coffee tables.
Try the macchiato Ethiopian style, and you can get strong or medium, so for a great coffee give the Tomoca coffee shop a try.
The Harar Coffee shop sells both fresh cups of coffee, along with good quality roasted coffee beans.
Try the macchiato here, as it is rich and creamy with an excellent taste, and there coffee beans have a number of choices to pick from, for you to try out.
Kaldis Coffee Shop is probably the Ethiopian version of Starbucks, and it has shops throughout Adis Ababa with a modern design to them.
They serve many international modern coffees like cappuccino, mocha, and americano, along with a few cakes and pastries.
Yeshi Buna is another coffee shop and combination restaurant, and has a few shops throughout the city.
They serve the traditional Ethiopian coffee which is often served black with sugar mixed in.
You can also find a large number of small cafes scattered throughout the city for you to try.
12 London England
The British have gone from being tea drinkers to a nation of coffee lovers, with about 70 million cups of coffee drank each day in the U.K.
Britain is now known as having one of the most vibrant coffee cultures in the world.
The Kaffeine coffee shop has been going since 2009. and now has two shops in London, and you will find some talented baristas making you an excellent cup of coffee in this Aussie style cafe.
They also run latte art classes for those wishing to learn the ways of a barista, or to just learn how to make a great coffee with the fancy art work on top is always neat to make.
Grind and Company is another coffee shop that has expanded in London, and they roast the Grind House Espresso blend each day at Shoreditch, and have it delivered to there shops.
They started in 2011 with just coffee, and now there restaurants serve food all day with an excellent breakfast to go along with your coffee.
There tasty espresso is also used to make an espresso martini, by adding vodka, and a small amount of sugar syrup.
So you might wont to try out there coffee, meals, and that special martini next time your in London.
Nude Expresso is one of Londons major roasters that sell there quality roast to many cafes around the city.
In 2008, they began there specialty coffee, and on Hamburg Street you can try there signature East Blend from a slow brew to batch filter options, and a brunch is also served 7 days a week here.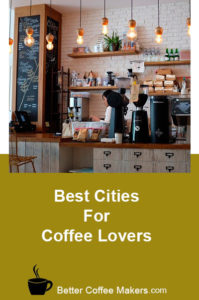 There cafe at Bell Lane serves both espresso filter coffees, and retail beans, along with a light brunch, and also is a favorite breakfast spot, and they give a coffee masterclass on Saturdays.
The newest cafe for Nude Expresso is located at Spitsfield, serving espresso, and filtered coffee along with a salad and roll.
There are so many coffee shops around London, that to mentioned them all would take a considerable amount of time, so when in London just hit coffee shops on your cell phone, choose one, and enjoy the coffee that you like.
  The Best Cities for Coffee, Final Thoughts
This is just a dozen of the worlds cities that are known for making great cups of coffee.
I realize there are many more around the world, so please don't be offended if I did not mention your city.
You can read also:
Where ever you are enjoy a well-made coffee in the best cities for coffee lovers, and thanks for taking the time to read this article.
Any comments are always appreciated
Wayne.