Instead of buying your coffee pre-ground, you might want to try grinding some coffee beans with the Krups Electric Spice And Coffee Grinder.
You will have better tasting coffee with a full-bodied flavor and rich aroma.
This coffee grinder will give the chance to have the same resulting coffee taste that you get at a coffee shop prepared by a professional barista.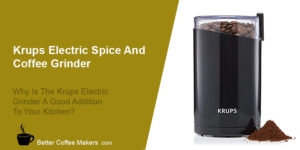 Coffee beans will lose 40 % of their aroma in the few minutes just after grinding, so having the beans ground at home just before pouring that early morning coffee is an experience you need to try.
Krups Electric Spice And Coffee Grinder
Large Capacity
The Krups coffee grinder can grind up to 3 ounces of beans, which ends up giving you about 12 cups of coffee.
Customize Your Grinding
You can grind the beans from a coarse to a fine, depending on your taste.
It only takes a few seconds, or just a little longer, and your coffee grinds are ready.
From a Turkish coarse grind to a smooth espresso, the choice is in your hands.
Motor And Size
There is a powerful 200 watts motor in this grinder to give you quiet running and only seconds for ground coffee, so you don't have to worry about waking up the neighbors with the sound of a coffee grinder at 4 or 5 in the mornings.
It has a stainless steel blade that's sharp and will give you fast even grinding.
The grinder is 3.5 inches by 2.9 inches by 6.73 inches and weighs about 1 pound, so does not take up too much cupboard space in your kitchen.
Safety
A good feature on this grinder is the the blade will not spin unless the lid is secured in place and you push on the lid-activated switch when you want to grind.
Other Uses
This grinder is also able to grind up nuts or herbs or another spices, so is good to have as just another kitchen appliance.
Easy Cleaning
After using for coffee or spices is best to give it a good cleaning between each use, otherwise your next coffee might taste like one of your spices.
A good way to clean it is using a small brush, and holding it upside down, brush out any particles left there.
Price
The Krups Coffee Grinder certainly won't put much of dent in your finances, and for such a low price this grinder gets the job done.
Shape
The top of the grinder is oval shape making it easy to pour out the coffee grinds.
Pros
A versatile grinder for coffee, spices, nuts, grains.
One button operation
Great value for the little you pay for
Quiet operating
Fast and strong
Large grinding capacity
Cons
Coffee sticks to inside of grinder requiring cleaning after each use
Grinds are not always perfect, takes practice getting it right
It doesn't grind for espresso
Is This Coffee Grinder For Me?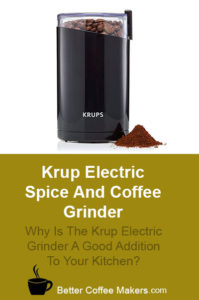 If you like to have a cup of coffee with fresh grind coffee beans, for the low price tag and easy to use, the Krups Electric Spice and Coffee Grinder is a good option for you to have at home and in the office too.
Another good idea to use this Coffee grinder if you like a spiced cup of coffee, it's to add some cinnamon or pumpkin spice at the same time as you grind your coffee beans.
Verdict For TheKrups Electric Spice And Coffee Grinder
This Krups Coffee and Spice Grinder is simple and easy to use, strong and versatile, making a great addition to your cupboard space, and the price is right, so you might want to take a look at it.
You can check the price of the Krups Coffee and Spice Grinder here, (not an affiiate link)
It also works on 120 volts so is good for Canada and the United States