Tiramisu easy cake recipe.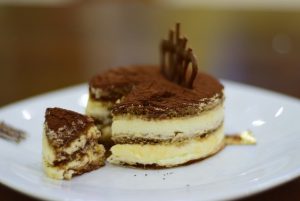 As coffee lover I love to have a good dessert after a meal or from time to time make a Tiramisu Cake Recipe.
Nothing better as the coffee lovers first option the tiramisu cake, easy to prepare and always welcome to have by everybody.
A good piece of tiramisu is always apreciated by the gourmet. Anytime you have a little leftover of a good espresso, it's the best reason to make a tiramisu.
Time: 45 minutes.
Ingredients To Make The Tiramisu Cake Recipe
3/4 cup  hot espresso
2 table spoons of coffee liquor
60 ml. of milk
5 egg yolks
1/2 tea spoon of vanilla
17 – 18 oz of mascarpone cheese
375 ml. cream 35 %
35 lady finger cookies
2 table spoon of cocoa
250  of sugar
How to make The Tiramisu Cake Recipe
1 In a bowl mix the sugar and the hot espresso, add the liquor and the milk, keep at room temperature.
2 Put the egg yolks in a bowl on bain marie out of the fire,  wisk the egg yolks, the vanilla and the rest of the sugar, place the bowl over the simmering water, and keep wisking continusly until the batter turns into a ribbon, it will take about 5 minutes.
Remove the bowl from the water bath, and continue to wisk with an electric mixer until the mixture is lukewarm.
3 On another bowl, place in the mascarpone cheese and soffen it with the help of a fork. Once is soft add it to the mixture, and fold the mascarpone in it.
4 In an 11×8 inch or 28×20 cm rectangular dish cover the bottom with the lady finger cookies that were soaked in the coffee for two or three seconds, breaking the cookies as required.
Then cover with half of the mascarpone filling and sprinkle that with cocoa.
Add the remaining and finish with another sprinkling of cocoa.
Put a plastic wrap over your dish and refigerate over night or at least for four hours.
Mascarpone Cheese Makes This Cake Unique
If you are thinking what is mascarpone, well it is an Italien cream cheese coagulated by adding lemon juice, vinegar or citric acid.
The origin of Tiramisu takes us to the Italian language as it means: "pick me up", cheer me up" or "lift me up", it's a popular italian dessert made of lady fingers cookies, espresso, mascarpone chesse and a custard.
There's a few Italian places that claims to be the origin of this great dessert as: Venetto, Friuli-Venezia, Piedmont and others.
It's said the origin of Tiramisu can take us back to 1960's, it was then in a small restaurant in the region of Veneto at the restaurante " Le Becherrie" where it's served mostly with sea food, and the first tiramisu was made on Christmas Eve.
Tiramisu can also be served as a half frozen dessert.
There are many different recipes and variations that exist for Tiramisu, and other liquers that are used in the coffee, from Port, Brandy, and even Irish Cream, plus other coffee flavoured liquers.
So next time your having a coffee you can think of this good Tiramisu Cake Recipe that would go with it.
If you have any great recipes that you have used coffee in, then drop by with your coffee and leave a comment..