Hamilton Beach Coffee Maker Reviews – Beach Brands Inc. sell many different small appliances globally for the home from there Hamilton Beach  coffee makers to toasters, blenders juice extractors, waffle makers, and almost all the small appliances that you use in your home.
The company was founded in 1910 by Frederick Osius in the state of Wisconsin.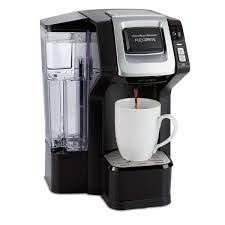 As Fredrick did not like using his own name for the company, he used the names of two men that worked for him, Hamilton- an advertising manager, and Beach- a mechanic, paying each man a thousand dollars for the rights of their names.
Beach invented a high speed motor that was used in the companies products.
Hamilton and Beach both left the company in 1913 to start there own electrical company, and Osius sold the company in 1922 to Scovill Manufacturing, so the company continues today as Hamilton Beach Brands Inc.
As the company produces about seventy to eighty models of coffee makers  at many different prices, then here is a review of some of them.
Hamilton Beach Coffee Maker Review
1  The Hamilton Beach 49976 Flex Brew
This model is a two way programmable 12 cup coffee maker, that will give you the choice to make a full pot using your fresh grounds, or if your in a hurry a single cup.
On the sjngle cup side you can use your favourite single serve pack, K-cup or grounds.
Both sides of this model are easy to fill with water, and have separate windows for viewing how much has been poured in, and both sides give you the choice of a regular or bold brew.
When brewing the 12 cup there is a programmable clock and an automatic shut off with a two hour keep warm cycle, plus an automatic  pause and serve feature.
The single brew side can give you 10 ounces with the single serve pack, or a 14 ounce mug size when using the grounds, and is also K-cup usable.
This is a five star rated coffee maker with the price a little high, but you are getting a good coffee brewer here with many features.
2  Model 46299C
This is another 12 cup programmable coffee maker, and can be programmed up to 24 hours in advance for thar early morning wake up.
It has 3 brew options, regular, bold, and 1 to 4 cups, it will take about 10 minutes on regular and 15 minutes on bold to brew.
Also comes with a 2 hour shut off after using, so no worry about to shut it off.
This is one of the top 3 best selling coffee machines, and comes with a good price.
3  Hamilton Beach model 47380
This is a 10 cup coffee maker, with a programmable brew station.
This coffee brewer does not use a carafe, but hold the coffee in a container inside the model.
You can then help yourself to a coffee one cup at a time, and with an internal heater the coffee stays at the right temperature for two hours.
With this brewer you can control if you wont your coffee regular, bold or 1-4 cups.
The internal container and basket for brewing can both be removed easily for fill up or cleaning.
There is a bar at the front for your coffee cup to press so you can get one cup at a time, and is also programmable so you can wake up to the smell of coffee.
With this model there is no worry about breaking the carafe, or a hot plate to burn the flavour of the coffee.
This product weighs only 3.97 pounds and is an easy fit on your kitchen counter, and one of the lower priced brewers
4  Hamilton Beach Model 48137
This 5 cup model has a stainless steel carafe, so you have less chance of breaking it.
It comes with an automatic pause for when you wont a cup.
The brew basket is cone shaped, and also a non-stick hot plate.
Both the brew basket and carafe are dish washer safe, and the brew basket will swing out for ease of use.
For the low price of this model it is a good buy.
5  Hamilton Beach Model 40514R
Now this model has a 40 cup capacity, for those mornings when a couple of cups just are not working, or it might even be ok for on the job site, office, or even a big family get together.
It is easy to fill and clean and with a weight of 5.37 pounds and a measurement of 15 inches high by 12 inches wide it will be an easy fit for most kitchen countertops.
One negative about this model is the inside is made with aluminum, and will darken with use, stainless steel would have been a better design.
To clean it every couple weeks when the water is hot or warm pour a little vinegar  in it, and wait until it cools down, then rinse it out with more water and you will be ready to go for the next time.
A duel heater in this model will keep the coffee hot without overheating it, and there are a couple of handles on the top side of the metal exterior for carrying.
It has a press button dispenser for any kind of coffee cup you wont to put under the spout, and if you find your cup is too high and doesn't fit, then you can set the unit on a thick bread board, or something like that.
As far as the price goes it is not too expensive, and you can check that out on Amazon.
6  The Hamilton Beach Flex Brew Model 49963
This is a single serve coffee maker, that can brew your coffee with a single-serve pack, freshly ground, or the coffee pods, so is compatible with the K-cups.
It has an adjustable rest to put your coffee cup or travel mug on when filling them up, plus it is stainless steel on the front and sides.
This model will shut off automatically when your brewing cycle is finished, and has a 10 ounce capacity for brewing.
There is a steel mesh filter for when you grind your own beans, a medium grind is the best.
This coffee maker will also allow you to try a variety of tea pads also.
For its low price this is a very versatile model, being able to brew 3 kinds of coffee, and even make a cup of tea.
It might take a little longer to brew then some because of the drip method, but your coffee will have a better taste.
You can check out the price on Amazon.
7  Hamilton Beach Model 49970
This is a personal one cup pod brewer, and will brew you up a 12 ounce cup when ever needed.
It comes with a touch start and an automatic shut off, and the brew basket is dishwasher safe.
It only uses the coffee pods so there is less mess to clean up, and you can also double the pods for a stronger coffee brew, plus your also able to use tea pod in it.
This model weighs only 2 pounds, and will fit on your kitchen counter quite easily.
Any negatives about this one is that it does not have all the controls, like the bigger models, but it is designed to just make you a cup of coffee, and for its price this is a good deal.
If interested prices can be checked out.
A few Statistics
As coffee has become a daily thing for many people to get there day started, here is a few numbers for coffee sold.
In the United States speciality coffees  account for 8% of the 18 billion dollar coffee market, where 66 billion cups are consumed each year.
And actually the United States is only number 8 on the list of countries for the most coffee purchased while Canada did not make the list of the top ten- we need to drink more coffee.
So in conclusion, don't forget to enjoy a coffee today, and any one of these Hamilton Beach coffee makers will get your day started off right.