French Press Coffee Makers Review
The French Press Coffee Maker Reviews, this is not the same as the coffee brewers, as it does not brew up your coffee like the larger brewing machines.
You will need to grind the coffee beans first, and a burr grinder works well for this, also the fresher the beans the better the taste will be.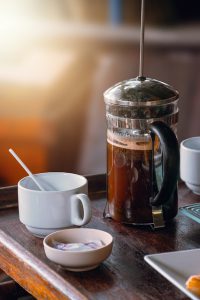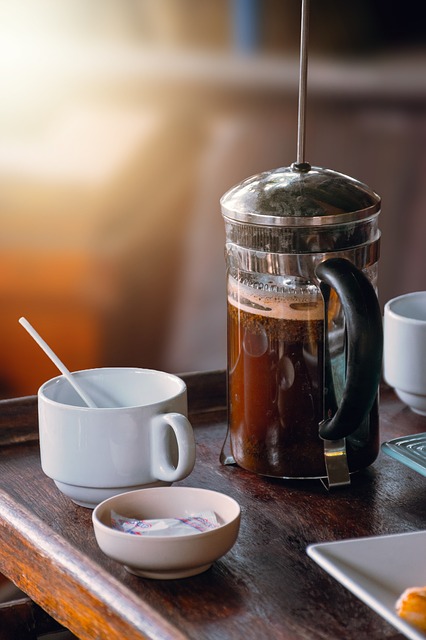 Using just about any French Press coffee machine will require you to remove the plunger and filter first, then put the right amount of ground beans into it on the bottom.
A medium grind for the beans works the best as a grind that is too fine can seep through the filter.
The recommended  for the grind to water is about two tablespoons of grind to six ounces of water.
Then you can add the hot water to the carafe and let it sit for three or four minutes for the flavours to come out of the bean grind.
After that you can add the plunger with filter assembly and press down on the coffee grinds slowly, and the coffee grinds should remain below the filters.
Now your coffee is ready to pour into your cup dark and hot for you to enjoy.
---
1 The Frieling Polished 18/10 Stainless Coffee Press
This is one of the better French Presses that you will find, with it being stainless steel and doubled wall insulated means it holds the heat longer keeping your coffee hot.
The plunger assembly  is also made of stainless steel, making the unit dishwasher friendly, and easy to clean.
This model is thirty ounces so you can have that extra cup in the morning, and it also can be used for tea.
About the only negative with this press is the high price, but then your getting a good quality press, and with a 5 year warranty against manufacturing defects.
---
2 The Kona French Coffee Maker and Tea Press
This 34 ounce model features a glass carafe and a stainless steel filter on the plunger, also a knob on the top of the plunger is made of rubber making it easy to push down on.
The glass carafe is protected by a plastic covering that protects from cracking or chipping.
This model is also dishwasher friendly, and about the only problem found with it is that over time the plunger can become worn, but the unit is not very expensive so is a good deal.
---
3 The Sterling Pro Coffee Press
This model is 34 ounces, and made of durable heat resistant glass.
It comes with a second filter to keep any of the grind out of your coffee, and the glass carafe is protected by a stainless steel skeleton.
The handle is made of an insulated plastic, and makes for an easy pour.
Being a newer model on the market it might not be as well known but with its medium price it can be a good buy.
---
4 The Kuissential French Press
This is another 34 ounce French Press with a double wall stainless steel carafe, and a mirror finish on the outside and brushed finish inside.
Also dishwasher friendly, and with the plunger and filter being stainless it is an easy clean.
This model is at a low price, so your getting great value.
Also being stainless if it happens to drop it will still keep on working, and with the double wall the coffee will stay hot for a long time.
For a good buy at a low price then this is the model.
---
5 The Bodum Brazil French Press
This 34 ounce model has an ultra light heat resistance glass carafe with a plastic handle and base, it came into production around 1980, so has been around for a while.
It is also dishwasher safe with its stainless steel plunger and fine mesh filter.
Being made of borosilicate glass means it is very durable, but you might find that it wont stand up as long as the stainless steel models.
This is one of the lowest priced models, so your actually getting good value with it.
---
6 The Lemeuiller French Press
This is a 32 ounce model and made with a double stainless steel wall.
It has one of the best filter system of any French Press, and with a double screen filter you will not find any grinds coming through to your coffee.
The plunger is stainless steel of high quality, and can easily be removed for cleaning.
This one is easily portable, and being made of stainless steel it will not break with rough treatment.
There are really no faults with this French Press and is very popular on the market, so if your looking for an excellent model then this is it.
---
7 The Secura French Press
The Secura press is another stainless steel  coffee maker of very high quality
This 34 ounce press is built with three layers of stainless steel, and is recognized globally as one of the best.
It is built to last a lifetime, and also is of light weight so can be taken any where.
The stainless steel plunger is removable for easy cleaning in your dishwasher.
With many French Presses over time the plunger becomes loose or wobbles, but this model should stand the test of a long use.
The only fault found by some is that after an hour the coffee tends to cool off.
The price is not high for this model, so is an excellent buy.
---
8 Francois and Mimi Press
This 34 ounce French Press has the double wall design to keep your coffee hot for a good length of time.
It is also dishwasher friendly with the plunger made from stainless steel, but the wire mesh filter is just metal.
With a low price for this model it is a good bargain.
---
9 The Procizion French Press
This is a 20 ounce press made with durable heat resistant borosilicate glass for the carafe.
It has a triple filter system so no grounds reach your coffee, and is also dishwasher friendly.
It can also be used for tea, hot chocolate, or other drinks.
Included with this model you get an extra set of three filters system, and a coffee scooper.
At a low price this model is also a good buy.
---
10 The Thermos Coffee Press
This 34 ounce model has a stainless steel carafe, and with the thermos vacuum insulation your coffee can stay hot for a good length of time.
With the stainless steel interior and exterior it can stand up to hard use, and weighing only 8 ounces is easily portable for a camping trip, or any where else you take it.
I hope you  found that this review of French Press coffee makers leaves you with enough information to buy one that is too your liking.
---
If you're interested to know how to Roast Your Coffee Beans At Home, just click here!
Any comments are always appreciated.
Wayne.