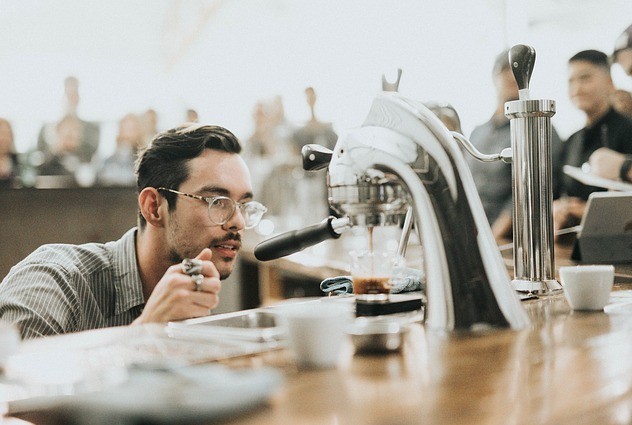 If you wont your coffee to stay the flavour  you like, then cleaning your coffee maker will go a long way  to keeping it that way.
Different minerals in your water for brewing can slow down a coffee maker after a while.
Some say to clean them once a month, while others suggest 5 to 6 months as being ok, I think it all depends on the water you use, and the amount of minerals in it.
Also any remaining oils from the coffee can give an off taste to even your best blends of coffee.
Cleaning Coffee Makers
Cleaning
So to keep that great coffee flavour, here is a few suggestions on cleaning them.
The Brew Basket
To clean the brew basket, most people rinse it out at the sink after each use.
Is also a good idea to use dish soap and warm water on it every once and a while to get rid of the old coffee oils, that cn leave a bitter taste to your coffee.
Some of these basket filters are dishwasher friendly, but is always good to check the service manuel for your model first.
Cleaning Mineral Deposits
The minerals in your water over time will scale up in the tank and tubes, slowing your coffee brewers performance way down.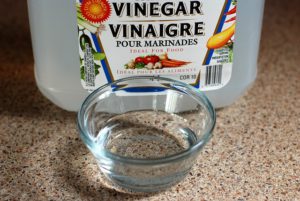 There are a couple good indications that you need to clean it, you will notice it steaming more then it ever did, and the brew cycle taking a longer time to completed.
Most coffee makers will come with cleaning instructions in the service manuel.
Cleaning Coffee Makers With Vinegar
A good way to clean is to take equal parts of distilled white vinegar and water, and then add it to the tank, and run it through its brew cycle, and once completed tossing out the vinegar and water.
Is also a good idea to stop half way through the brew cycle, and let it sit for about a half hour or an hour, then finish the cycle, its what ever you prefer.
After the vinegar and water process is finished, then run just plain water through the cycle, and you might wont to do this a couple times to remove any traces of vinegar that were left over.
Tips For Cleaning Different Coffee Makers
Cleaning The Carafe.
To clean the carafe, fill it up with a mixture of one part baking soda, and two parts hot water, then let it stay like that overnight.      
Then in the morning dump it out, and give a good rince with water. Also a sponge with some baking soda on it can be used to clean the hotplate where the carafe sits.
Cleaning a French Press
Anyone with a French Press will be familiar with the job of cleaning it, and having to get the mess of wet coffee grounds out of the bottom of the cylinder.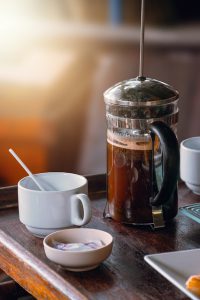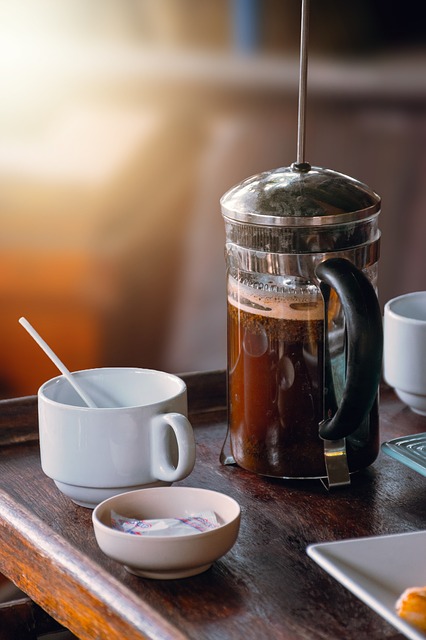 The coffee grounds can be tossed into the compost, or put in your garden for the plants, but they are not so good if you put them down the sink, as they can plug up the drains.
A way to get the coffee out of the cylinder is to use a rubber spatula, and then any small bits leftover just rinse them out, as a few small pieces wont affect the drains.
Then you might wont to rinse every thing, and have it ready for the next brew.
After a while it would be better to do a good cleaning by taking all the components apart, like the lid, plunger, screen, and give these parts a cleaning in hot water and dish soap.
Some people will use baking soda for this cleaning, and another thing that works well is the half and half vinegar and water.
After the cleaning be sure to give all the parts a good rinse, as the taste of vinegar or dish soap in your coffee just doesn't go over to well.
Cleaning an Electric Kettle.
If you happen to have an electric kettle, or kettle for your stove that you use for your instant coffee you will find that after a length of time it will scale up with mineral deposits.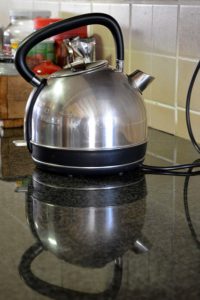 To clean them is much the same as your coffee maker, just pour in equal amounts of vinegar and water.
Then turn the kettle on and bring mix to a boil for a few minutes, then shut off, and let mix cool, and drain.
After that use just plain water bringing it to a boil, and do this a couple times in order to remove any of the vinegar flavour or taste, and then it should be cleaned enough and ready to go.
Cleaning a Chemex Coffee Maker
The Chemex coffee maker is shaped like an hourglass with a cone neck that holds special filter papers, that are thicker then the filters used in the drip coffee makers.                 
These usually have a wooden collar around the neck that you use for pouring out the coffee.This wooden collar is made in 2 pieces and tied in place with a leather lace.
And because of the hourglass design this is not one of the easiest to clean.
When cleaning after using, just use dish soap and warm water with a long wooden or plastic handled bottle brush.
Then rinse well with water, and it should be good to go.
After a lot of use you might see the bottom getting stained from the oils in the coffee, or have a cloudy look because of the minerals in your water.
Around every 6 months or so, depending on your water. is a good idea to use the equal mix of water and vinegar to clean it, and let the mix sit for a couple hours in the carafe before rinsing a few times.
Many of these are also dishwasher safe, and you just untie the leather lace taking off the wood 2 piece handle from around the neck.
After this cleaning your Chemex should be like a new one, and ready for your next cup of coffee.
Cleaning the Cuisinart DCC 1200
Some coffee makers come with a self cleaning  button, and the Cuisinart DCC 1200 12 cup coffee maker is one of these.     
To clean this model is to first remove the used charcoal water filter, and then let a new filter soak in water for twenty minutes or more.
Then fill the carafe with equal amounts of distilled white vinegar and water, and then add this to the water reservoir, then put your carafe back on the plate to catch your water mix.
You can put a new coffee filter in just to see how much dirt or particles the cleaning cycle removes, but thats up to you.
Then turn on the self clean button, and also turn the coffee maker on, and let it go through the clean cycle.
It could take about 30 minutes for the clean cycle to work, as it pauses after each cup in the cleaning cycle.
Once it is finished the clean cycle you can check the coffee filter just to see how much dirt was removed,then toss out the filter.
Empty the carafe and rinse a few times with hot or warm water, a hint here is to not put cold water in a hot carafe , or you could end up buying a new one.
Then using just water run your coffee maker through the brew cycle, and some suggest doing this a couple times to remove any vinegar taste.
Then at the end put your new charcoal water filter back in its holder, along with a new coffee filter and your ready to go.
Cleaning the Keurig K-Cup
If you wont to keep your Keurig giving you some great tasting coffee, then its recommended to clean it 3 or 4 times per year, depending on the amount of minerals in the water you use.
You can open the top and remove the K-cup holder, but use caution as there are two sharp needles in there.
With the cup holder you can rinse it in warm water, or put it in the dishwasher, and also be sure to clean the holes on the bottom of it.
Next the drip tray can be removed, and washed by hand or put in the dishwasher, and also the external water reservoir is dishwasher friendly.
Then the upper part of the K-cup holder has a needle with three holes in it, and to clean these straighten out a paper clip to use on each hole removing any particles that are there.
With a damp cloth or toothbrush you can clean around the area where the cup sits removing any coffee grinds.
You can then install the K-cup holder which has an arrow on its top for alignment just to be sure it goes back in the right place.
Now you can fill the water reservoir with white vinegar, or a solution of equal parts water and vinegar, or you can buy the Keurig descaling solution and use it.
Then run the 4 large cup brew cycle with no K-cup, and dumping your vinegar solution after each. This cycle will clean  the inside heating tank, and valves inside.
Leave the brewer on for up to 4 hours so vinegar solution has time to work on the mineral deposits.
After this then you will wont to run just water through on the large cup cycle, and you might have to do this a few times until there is no smell or taste of vinegar left.
Now your Keurig is ready to make that tasty cup of coffee once again.
Cleaning Coffee Makers – Final Thoughts
Many of the different brands of coffee makers sell there own special cleaning solutions, but a solution of vinegar and water will do the job very well also.
So to keep that special flavour of coffee that you have become used to, keep your coffee machine clean, and 2 or 3 times a year is recommended, but that all depends on the amount of minerals in your water.
Stop by and share a coffee in the morning, or any time of the day.
Wayne.